It seems that every iOS user needs an iPhone unlocking software. If you try to enter the wrong unlock password multiple times because you have forgotten the password or your child accidentally changed your screen lock password then forget it. You can no longer access an iPhone that is locked out. At this time, in order to unlock your iPhone without using password, you need to ask for professional iPhone unlocker software for help. UkeySoft Unlocker is far ahead in this area.
Under what circumstances is the iPhone locked out?
For unauthorized access, users usually set permissions on the device, and they can only access the iPhone by using a passcode, Touch ID or Face ID. And, in some specific cases, your iPhone is disabled and you need to unlock locked iPhone without password.
You get a used iPhone associated with the Apple ID of the previous owner.
Entering the wrong password multiple times, your iPhone is disabled.
Your child accidentally changed the screen password but soon forgot it.
You pick up a password-locked iPhone and want to find its owner.
Before giving away your phone to others, you need to permanently remove Apple ID or iCloud activation lock.
Whatever the reason, the accident happened. If you make good use of UkeySoft Unlocker software, unlocking your Apple ID and screen lock is an easy task.
UkeySoft Unlocker Features
UkeySoft Unlocker is a great iPhone/iPad/iPod Unlocker tool, and you can instantly unlock screen password on iPhone/iPad/iPod touch in just a few clicks. Besides, the Unlocker is also designed to unlock Apple ID from an activated iPhone. Here are the main features of UkeySoft Unlocker.
Unlock iPhone/iPad Screen Passcode Safely & Instantly
UkeySoft Unlocker removes complicated steps. Anyone can handle it easily because it only takes 3 simple steps to unlock iPhone/iPad without passcode. It works by detecting the iOS device connected to the computer and then downloading the appropriate firmware to bypass the screen password. Doing so will not damage your phone.
Remove All Types of Passwords from iOS Devices
No matter what kind of lock you add to your iPhone, you can use the UkeySoft Unlocker tool and connect a locked iPhone to a computer. The tool will identify the phone model and then easily delete 4 different types of passwords: 4 Digit Passcode; 6 Digit Passcode; Face Identity Passcode and Touch Identity Passcode.
Delete iPhone Password in Any Case
Here are many cases of unlocking iPhone passwords. Sometimes you forget your password because it's an iPhone that hasn't been used for a long time; your child secretly changed your password without telling you, but he quickly forgot it; the iPhone was disabled after entering the wrong password multiple times After; you can't type the password due to the damaged screen; buy a locked second-hand iPhone at a low price; the iPhone is stuck on the Apple logo screen and so on. In these cases, UkeySoft Unlocker excels at helping out.
Unlock Apple ID & iCloud Activation Lock without Password
Forgot your Apple ID password? UkeySoft Unlocker also advocates to unlock Apple ID without password and removing the activation lock on an iPhone. As long as you make sure your iOS device is running iOS 13 and earlier, and the Find My iPhone feature is not enabled on the iDevice.
Here's A Guide on How to Use UkeySoft Unlocker
#1 Unlock Apple ID without Password
Step 1. Install and launch UkeySoft Unlocker on a computer and choose Unlock Apple ID feature on the main screen.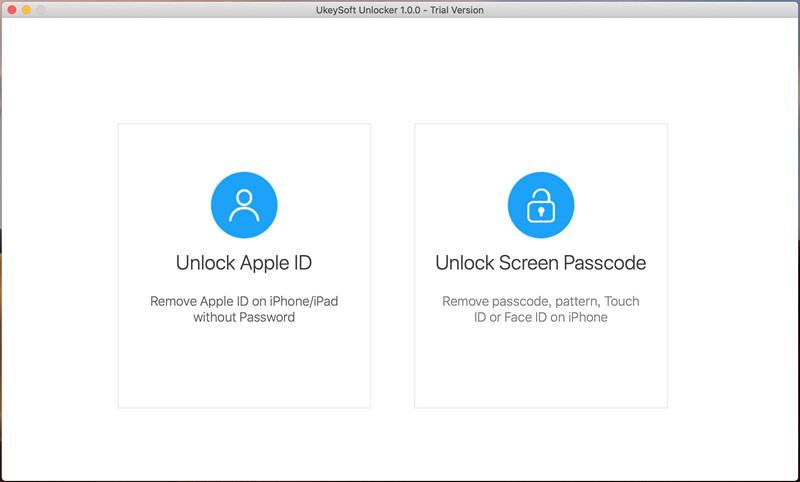 Step 2. Use a USB cable to connect your iDevice to the computer and tap on "Next". Tip: Tap "Trust" when it pops up on your smartphone.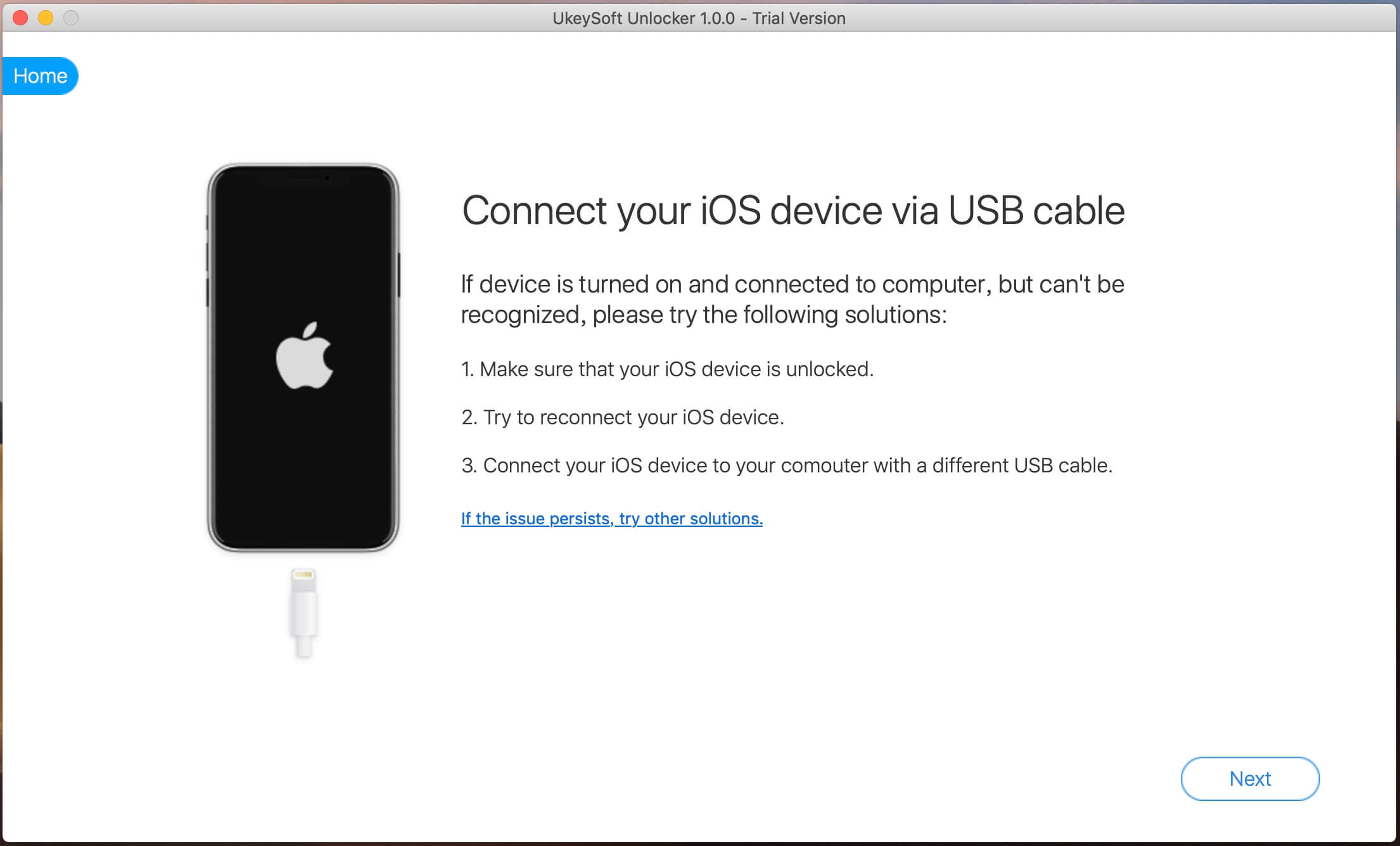 Step 3. Check for your iPhone information on the screen, click on Start button after confirming. UkeySoft Unlocker starts unlocking Apple ID on iPhone without password. Wait until the process finish, and then you can use your iPhone again.
Note: This method is available when Find My iPhone is turned off. And you need to make sure your phone is running iOS 13 and earlier.
#2 Unlock iPhone Screen Password
Step 1. Launch the software and enter "Unlock Screen Password". Then connect a locked iPhone to the computer and click on "Next".
Step 2. Then need to put iPhone into recovery mode. The program provides a detailed step-by-step guide, which is user-friendly.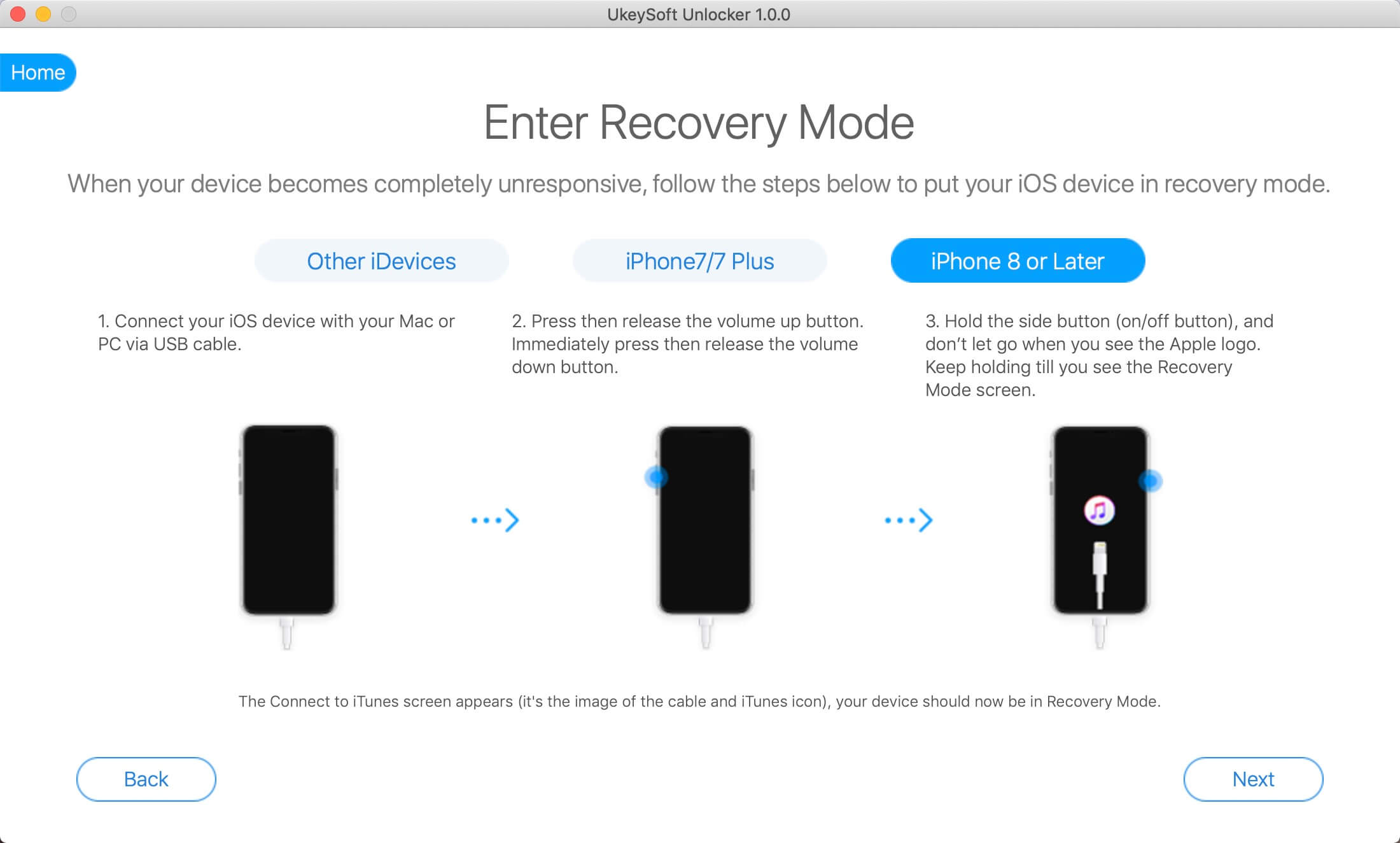 Step 3. You should click on the "Download" prompt to download the firmware after checking your device information.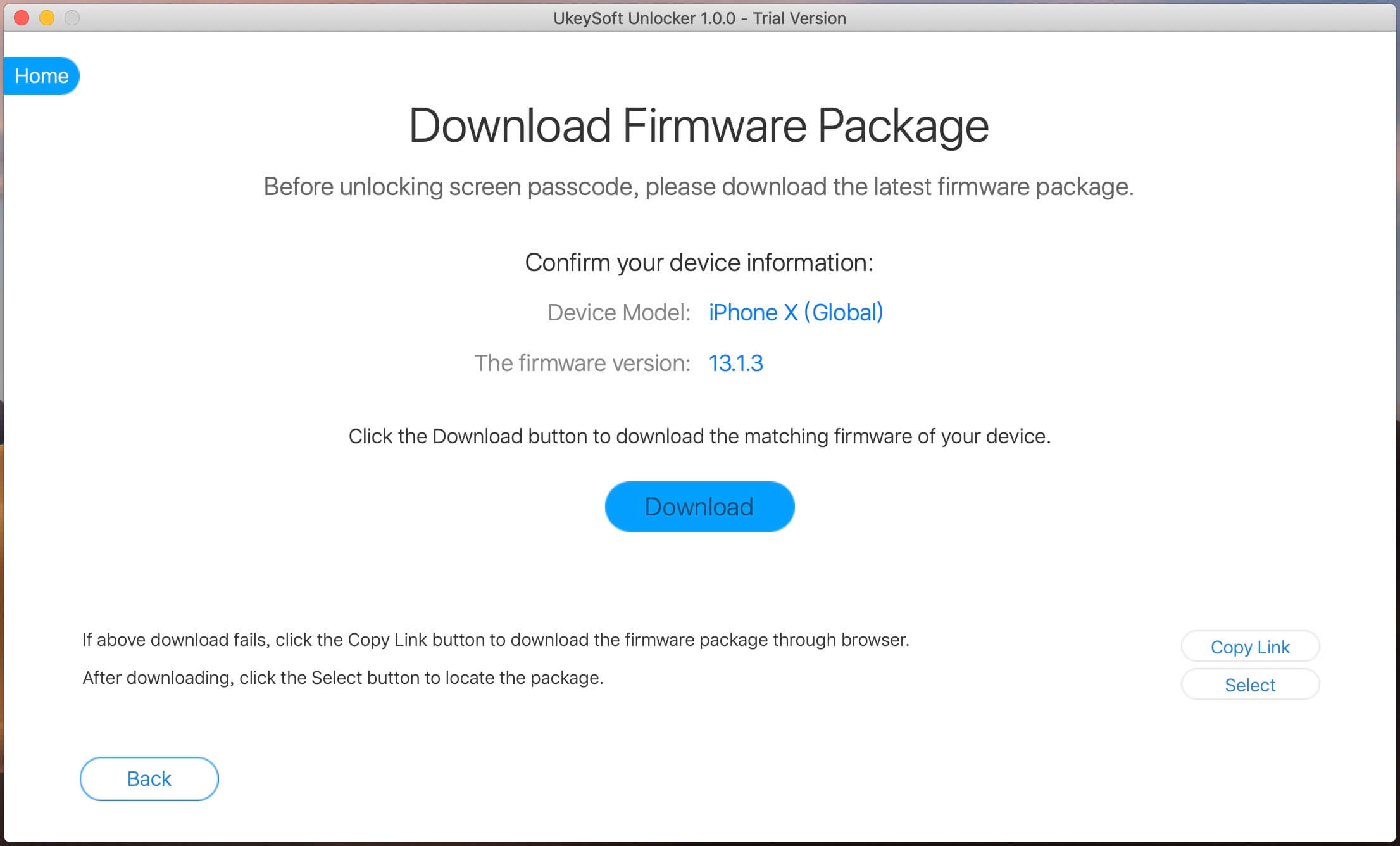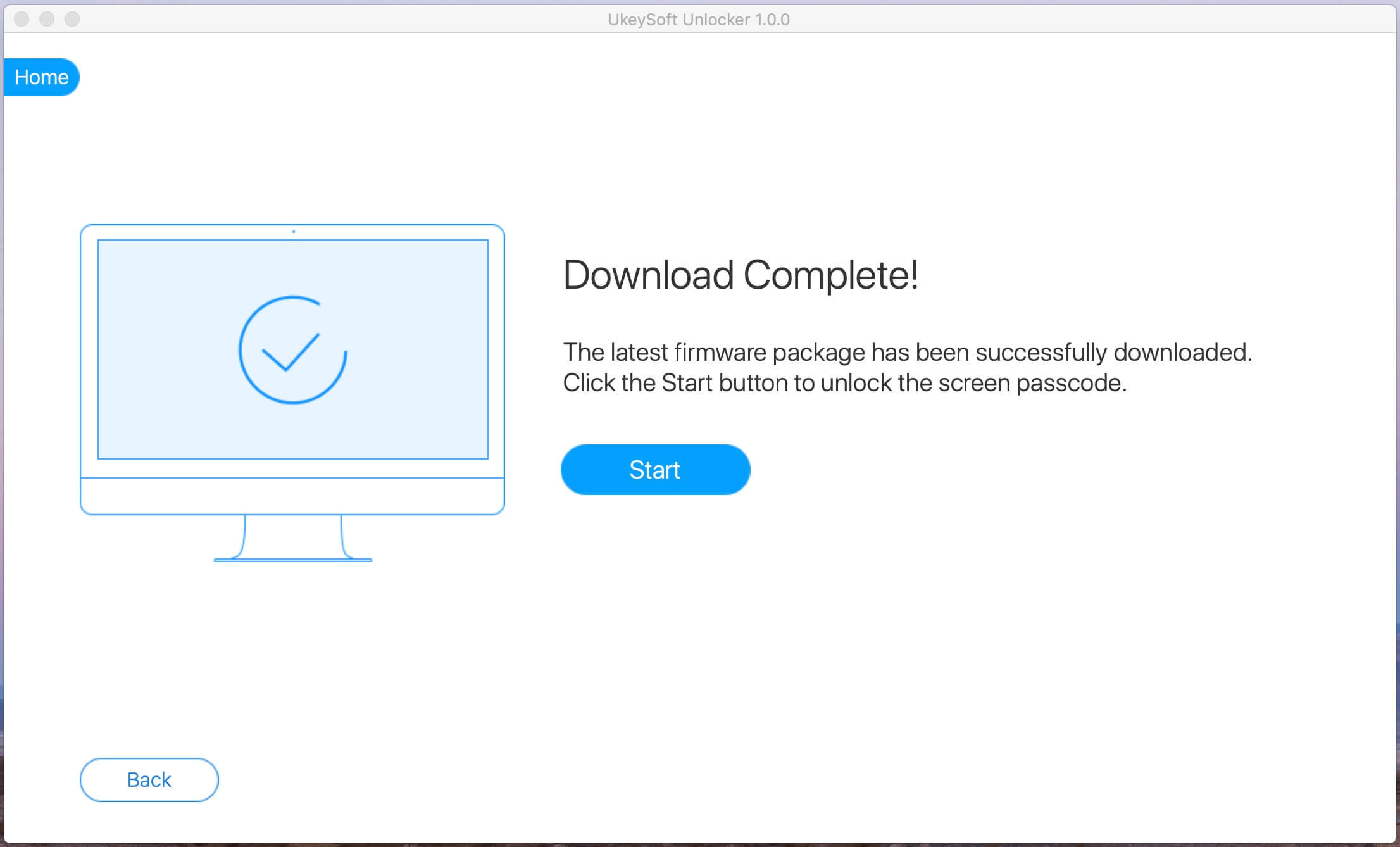 Step 4. The program begins downloading the firmware package for your iPhone device. A "Start" prompt will appear, click on it and the Unlocker starts removing screen passcode, pattern, Touch ID or Face ID from your iPhone.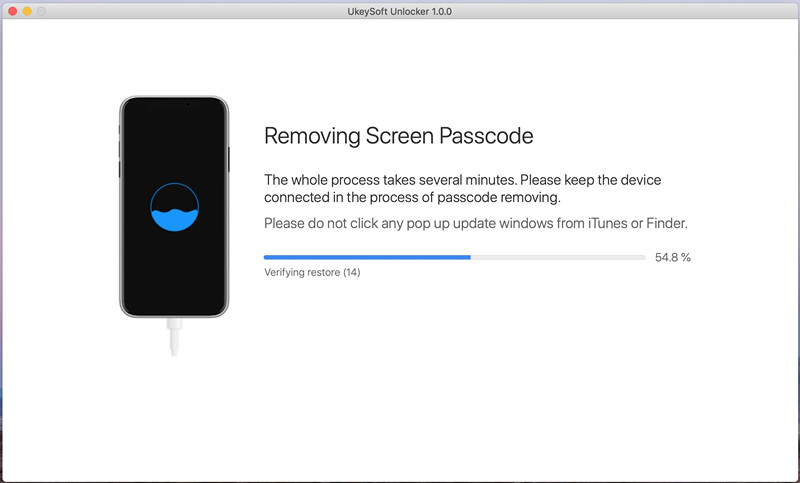 Pros and Cons:
Pros:
This powerful tool is efficient. I tested both features using different iOS devices. I can indeed unlock the screen password and unlock the Apple ID without using a password.
It is a user-friendly tool. The user interface on UkeySoft Unlocker is great. It is simple to use and anyone can unlock iPhone smoothly without any technical skills.
It is practical especially when you forget the screen password or your child accidentally changes the screen password without telling you.
It supports removing 4 different passwords including 4-digit or 6-digit passcode, Touch ID & Face ID.
In addition to unlocking the screen password, it also works with unlocking Apple ID and iCloud Activation Lock from an activated iPhone.
It has a good refund policy.
Cons:
1.After performing the unlock process, everything on the device will be deleted.
2.It will automatically upgrade your iOS to the latest version, which some users may not want to do.
3.If iTunes is not pre-installed, the Unlocker may have difficulty discovering the device.
4.If you are using Windows 7/8/10, you may be disappointed. UkeySoft Unlocker is not available for Windows at the moment.
Conclusion
This is a review of UkeySoft Unlocker, which is indeed a good tool for users who have accidentally locked their iOS devices. In addition, it is safe. No viruses or threats were detected during the download and installation of UkeySoft Unlocker. The software is excellent at bypassing iPhone lock. If one day your iPhone gets locked out accidentally, then it is a must-use tool.